POLO SHIRTS


Men's or Women's
Men's size: sx (extra small) - 6xl
Women's size: sx (extra small) - 4xl
sx-xl......$29.50
2xl..........$30.50
3xl..........$32.50
4xl-6xl....$33.50
Tall + ..$1.00
Shipping: $7.00
If you want one in time for the reunion order no later than May 18, 2016.
Those that are local I can meet and deliver the shirt.
John P. Kresena
Cell 817-938-4489
kresena@gmail.com

CHALLENGE COINS
Can be purchased at the reunion both nights for $10.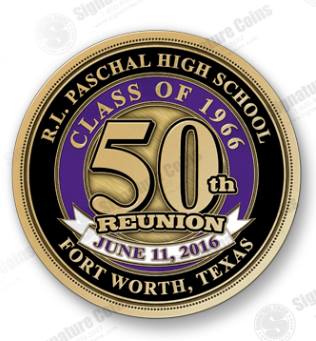 front back
The history of the challenge coin dates back to World War I, when an American pilot was shot down and captured in Germany.

While escaping from the grasp of the Germans, the pilot made his way to France, where they believed he was a spy and sentenced him to be executed. To prove his identity and save his life, he revealed a bronze medallion with his flying squadron's emblem, confirming that he was an American pilot. The French spared his life and celebrated by giving him a bottle of wine instead.

After this incident, it became a tradition that all members of the squadron carried their medallion, sparking challenge coins to become a trademark for military tradition and pride.